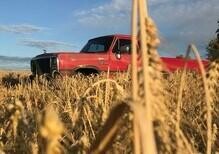 Agricultural Services Quick Links
The Agricultural Services Department is directed by Lamont County's Agricultural Service Board (ASB). The ASB functions as the voice of agriculture by advising and responding to issues of local, provincial and national interest.

The Agricultural Service Board (ASB) and department strives to act with respect to, and assist in, proper land utilization and its production with a view to improving the economic well being of the farmer, and to develop and promote agricultural policies to meet the needs of the agricultural community of Lamont County.

Through County Council, the ASB and Agricultural Service Department work diligently to promote the ASB core values of:


Conservation 
We believe in the importance of conserving our natural resources, traditional agriculture, and the family farm.
Client Focus 
We believe in doing our best to meet the needs of every client who contacts our office in search of assistance, knowledge, or results.
Program Delivery
We believe in providing the most information possible to all program participants and ensuring the needs of participants are met.
The Agricultural Services Department is legislated to conduct its activities under the Weed Control Act, the Agricultural Pests Act, the Soil Conservation Act and the Animal Health Act. The department and the Agricultural Fieldman support the Agricultural Services Board to meet and make recommendations to Council and the Provincial Minister of Agriculture. 

The Agricultural Service Department can be contacted at 780-895-2585 or by email or:
Lamont County Agricultural Services Department is dedicated to ensuring ratepayers are supported through a variety of Agricultural programs on a wide variety of topics. Questions and requests for more information should be directed to the Agriculture and Environmental Coordinator.

For a full breakdown of programs provided, please choose the appropriate topic from the list below:
Canadian Cattle Identification
Lamont County Agricultural Service Board is a third party agent for the Canadian Cattle Identification Agency (CCIA).
Agriculture and Agri-Food Canada has announced the launch of consultations to help guide the development of a Sustainable Agriculture Strategy (SAS).
As part of consultations on a Sustainable Agriculture Sector, a Sustainable Agriculture Strategy: Discussion Document is now available for comment until March 31, 2023. This document examines the current state of agriculture and environment in Canada and provides a starting point for discussions on how a SAS may further advance environmental goals in Canada's agriculture sector.

Feedback collected during consultations will help shape a plan and develop shared outcomes that will benefit producers, the agriculture industry, and Canadians through supporting the long-term vitality of the sector, enhanced resilience in the face of extreme weather, and connections to global markets.

Share your experiences, ideas, and advice on developing a Sustainable Agriculture Strategy. Please share your feedback online until March 31, 2023 via:
https://agriculture.canada.ca/en/about-our-department/transparency-and-corporate-reporting/public-opinion-research-and-consultations/share-ideas-sustainable-agriculture-strategy-discussion-document
There is also a petition on the Parliamentary Website (Government of Canada) related to fertilizer reduction targets: https://petitions.ourcommons.ca/en/Petition/Details?Petition=e-4133 (dealine for signatures is January 2, 2023).