Go back to news listing
Notice of PUBLIC HEARING for MUNICIPAL DEVELOPMENT PLAN BYLAW NO. 849-22 LAND USE BYLAW NO. 848-22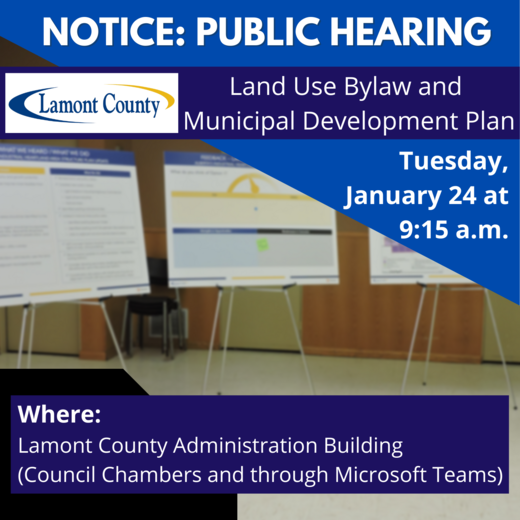 Pursuant to the Municipal Government Act, S.A., 2000, as amended, the Council of Lamont County proposes to adopt a new Municipal Development Plan and a new Land Use Bylaw for the County.
A Public Hearing will be held to provide an opportunity for members of the public to speak to Council on the proposed bylaws commencing at 9:15 a.m., Tuesday, January 24, 2023, at Lamont County Council Chambers and via Microsoft Teams. 
https://www.lamontcounty.ca/public-tenders/public-hearings
* Any amendments made to incorporate feedback received from the Public Hearing on January 24 will be reviewed/discussed by Council at a future meeting before final readings.
VERSION PRESENTED at the MARCH 14, 2023 meeting and proposed updates/revisions from feedback received can be accessed here.