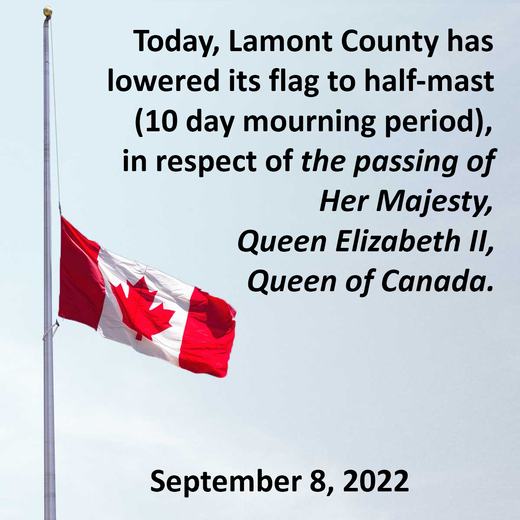 "Lamont County offers its deepest and heartfelt condolences on the passing of Her Late Majesty, Her Royal Highness, Elizabeth the Second, by the Grace of God, of the United Kingdom, Canada, and Her other Realms and Territories Queen, Head of the Commonwealth, Defender of the Faith,"
said Lamont County Reeve, David Diduck.
"We have lost a great world leader and an individual that set a strong example to live by."
Flags will be at half mast for the mourning period of 10 days. *The flags will be at full mast for one day on the accession day of the King.
Memorial page(s) will be posted on the websites of the Lieutenant Governor, Government of Alberta and Legislative Assembly.
All official portraits of Her Majesty are draped.
Books of condolence will be available online at www.alberta.ca and in some provincial buildings throughout the province.
Please visit the provincial websites as well as the website at Canadian Heritage (https://www.canada.ca/en/canadian-heritage.html) for tributes to Her Late Majesty and for information on public ceremonies. 
https://www.alberta.ca/queen-elizabeth-memorial.cfm
#GodSaveTheQueen