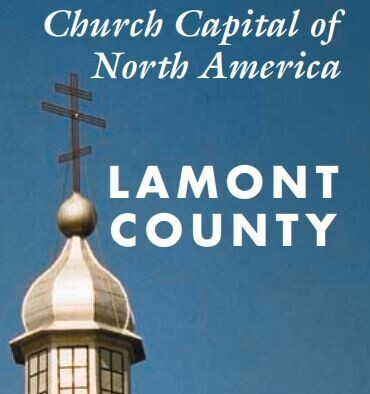 Self-Driving Church Tour
Lamont County has over 40 historical Churches – more per capita than anywhere else in North America!

Lamont County's Church Tour Booklet was a provincial winner in the Attractions Canada 2001 and 2003 Awards Program. Booklets are available for free at the Lamont County Administration Building, or you can download it here.  

**Please Note** The Church Tour booklet is original as printed in 2001, and some churches are no longer standing. The official Lamont County Doors Open Church Tour was discontinued in 2012.
When you visit, please consider that churches are struggling with high costs for maintenance and repairs. If you ask someone to open up a church for you, a donation into their "church maintenance box" would be most welcome.
Additional photos and history of Alberta Churches can be found on the Prairie Churches (external) website. Note: this website is not supported/maintained by Lamont County, but features many of the Churches across the province, including very good photos, video and historical information about Churches in the county.
Ukrainian Catholic Churches
Nativity of The Mother of God Ukrainian Catholic Church, Chipman
Presentation of The Blessed Virgin Mary Ukrainian Catholic Church (Delph), NW-18-58-18-W4
St.Demetro Ukrainian Catholic Church (Near Hilliard) (The Farm Church), SW-15-54-17-W4
Protection of The Mother of God Ukrainian Catholic Church (Krakow), NW 24-55-17-W4
St. John The Baptist Ukrainian Catholic Church , Lamont
Nativity of The Mother of God Ukrainian Catholic Church (Leeshore), SE-12-58-20-W4
St. Michael the Archangel Ukrainian Catholic Church (Limestone Lake), NW-31-56-17-W4
Transfiguration of Our Lord Ukrainian Catholic Church (Spas Moskalyk), NE-36-53-16-W4
Siracky Chapel, SE-34-53-16-W4
Sts. Peter and Paul Ukrainian Catholic Church, Mundare
St. Nicholas Ukrainian Catholic Church of St. Michael, NW-35-55-18-W4
Exaltation of the Hold Cross Ukrainian Catholic Church (Skaro), SE-1-57-20-W4
Assumption of The Blessed Virgin Mary Ukrainian Catholic Church (Star-Peno), NE-28-56-19-W4
Descent of The Holy Spirit Ukrainian Catholic Church (Jaroslaw), SW-3-57-20-W4
Roman Catholic Churches
St. Bonaventure Roman Catholic Church, Chipman
Our Lady of Perpetual Help Roman Catholic Church, Mundare
St. Michael Roman Catholic Church, St. Michael
Our Lady of Good Counsel Roman Catholic Church (Skaro), SE-5-57-19-W4
Roman Catholic Church of the Precious Blood (Krakow), SW-22-54-17-W4
United Churches of Canada
Bissell Memorial United Church, Andrew
United Church of Canada (Uwin), SE-15-55-17-W4
Lamont United Church, Lamont
Ukranian Orthodox Churches
Sts. Peter and Paul Ukrainian Orthodox Church, Andrew
Holy Trinity Ukrainian Orthodox Church (Kahwin), SW-2-58-16-W4
St. John The Baptist Ukrainian Orthodox Church (Peno), NW-31-56-18-W4
St. Demetrius Ukrainian Orthodox Church (Jaroslaw), NE-33-56-20-W4
St. John Ukrainian Orthodox Church (Sachava or Suchava), NE-8-56-16-W4
Orthodox Churches of America
Church of the Archangel St. Michael, NW-9-56-16-W4
Nativity of The Holy Virgin (Kysylew), NE-7-57-16-W4
Holy Transfiguration Orthodox Church (Star-Edna), SE-27-56-19-W4
Holy Trinity Orthodox Church (Sunland), NW-1-58-16-W4
St. Nicholas Orthodox Church (Bukowena), NW-15-56-17-W4
Russo-Greek Orthodox Churches
St. John The Baptist Russo-Greek Catholic Orthodox Church (Farus) SW-22-55-16-W4
Russo-Greek Catholic Orthodox Church of St. John the Baptist, Chipman
St. Mary's Holy Dormition Russo-Greek Orthodox Catholic Church of Shishkovitzi, SE-34-53-18-W4
Russo-Greek Catholic Orthodox Church of St. James, SE-1-54-17-W4
St. Demetrius Russo-Greek Orthodox (Serediak Church), NW-33-54-16-W4
Holy Ascension Russo-Greek Orthodox Church (Skaro), NE-1-57-20-W4
Holy Trinity Russo Orthodox Church (Old Wostok), SW-23-56-18-W4
Russo Greek Orthodox Parish of St. Michael the Archangel (Peno), SW-18-57-18-W4
Other Denominations
Bethlehem Lutheran Church, Bruderheim
Bruderheim Moravian Church, Bruderheim
Lamont Alliance Church, Lamont
Andrew Full Gospel Church, Andrew