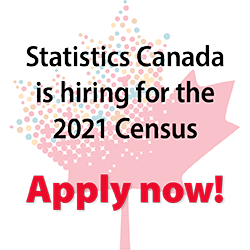 Looking to make a lasting contribution to Canada, its communities and its people? Statistics Canada is hiring approximately 32,000 people across the country, and 4000 in Alberta, to work on the collection phase of the 2021 Census.
As a member of the collection team, you will help ensure that the 2021 Census is a success. These jobs involve communicating with residents in your local and rural communities to ensure the completion of census questionnaires. Supervisory and non-supervisory positions are available. Job start and end dates vary by position and location, but are between March and July 2021.
Crew Leaders (supervisors): As a crew leader, you will train, supervise and motivate a team of enumerators.The rate of pay for Crew Leaders is $21.77 per hour, plus authorized expenses.
Enumerators: As an enumerator, your primary responsibility will be to complete census questionnaires with residents. The rate of pay for Enumerators is $17.83 per hour, plus authorized expenses.
Applicants must be:
18 years of age or older
A Canadian citizen or otherwise eligible to work in Canada
Available to work flexible hours, mainly evenings, and weekends.
Click Image to Apply Online
For more information about working for the 2021 Census, visit the
Census Jobs
page of the census website.