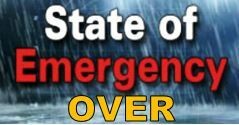 Please be advised that effective 3:00 p.m. today (June 15, 2020), Lamont County's State of Local Emergency (SOLE) has been terminated.
Lamont County has reached the maximum seven days allowed for a SOLE under the Emergency Management Act, and does not forsee that any extraordinary measures (i.e. mandatory evacuations, etc.) will be needed in the near future that would necessitate extending the SOLE.
This certainly does not undermine the disaster that some of our residents face with overland flooding. Daily assessments continue to be done and a SOLE can be re-declared at any time and for any location in the County, whenever the criteria is met within the Act.