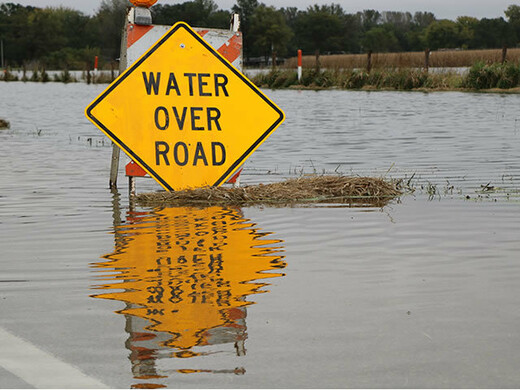 May 2, 2018, 2:30 p.m. -
Public Works continues to work with opening up roads, and monitoring the state of flooding across the county. Thank you to everyone for their patience with all the road closures; progress is being made! Attached is the list of current road closures, as of 2:00 pm today.


April 30, 2018, 4:00 p.m. -
At a Special Meeting of Council held this afternoon, Council chose to maintain the State of Local Emergency, to be re-evaluated on Thursday. This is mainly because of the situation currently being monitored in Tagore estates (very high water, and the possibility of more water being released from the Blackfoot Recreation area), which could strand some families. There is also still significant ice in the north of the county, and as water moves through to the north west there is still significant risk of flooding and road washouts in these areas over the next few days.
Attached to this notice is a list of roads currently closed, as of 3:00 p.m. today.


April 30, 2018, 11:00 a.m.
- The south half of the county is largely recovering with the exception of Tagore Estates, which is being monitored. The families who were surrounded by water are now able to move freely, as the flooding in their area was largely reduced over the weekend by Public Works staff. In the north half of the county water is moving through to the river. This is leading to some water over roads and washouts; residents are reminded to obey road closures where posted.
Another update will be coming this afternoon, after discussion with council. We'll know more then, regarding the State of Local Emergency and current road closures.


April 27, 2018, 12:30 p.m.
- We've seen significant improvement in areas south of Highway 29, now that frost has come out of the ground. The north half of the county, particularity near Andrew and North of Star, are still seeing some flooding; there is still significant snow and ice in those areas.
Many road improvements have been made. Public Works crews continue to work 24/7, and will work into the weekend to open roads where possible. There are currently 28 road closures in place; a list is included in this notice. Please be aware that road status continues to change, so this list is for your information only, and cannot be considered 100% accurate.
The State of Local Emergency is still in place, and will be evaluated on Monday. Public safety remains a top priority as roads are still soft and new washouts are appearing, some in unexpected areas. Because of this, please remain cautious when traveling roads, do not go around or remove barricades, and report problems when found. Thank you!

April 26, 2018, 5:00 p.m.
- Flooding is receding/has receded in the majority of the county. Public Works has spent the day repairing and opening roads where possible, as well as opening up culverts to assist water flow.
There are some areas that are still under water, and the roads are closed to prevent deterioration of the road and for resident safety. In the next few days it is expected that the majority of flooding over roads will be gone, and major repairs can begin.
There is still a State of Local Emergency in effect, so please remain cautious when driving, and do not remove or move barriers. Thank you for your cooperation, and your patience.


April 26, 2018 11:30 a.m.
- Thank you for your patience, while I compiled a list of roads that are currently closed, as of 11 am this morning. It is attached to this notice.
While nine new roads have been closed, a significant number of fixes have been made, and many roads have been opened. Public Works crews remain active, making fixes, pumping water, and closing/opening roads when necessary.
As the situation remains fluid, we would like to emphasize that roads may be closed at any time, depending on water flow, so please remain cautious.


Update April 25, 2018, 5:00 p.m.
- Public Works crews have been working all day to fix and open roads where possible. Approximately 35 roads have been repaired today, with repairs ranging from major fixes to grading and loads of gravel. Unfortunately, more problem areas have been identified and there are now 65 roads closed across the County, despite the repairs. The attached list is the most up-to-date for road closures.
We continue to urge residents to use caution when traveling on the roads, as sink holes are still an issue. Please drive slowly and be prepared for unexpected changes in road conditions. Please do not drive around barricades; roadsides are extremely soft, and there is a danger of falling through the road into very deep water.
This will be the last update for the day, unless there are significant changes.

Update April 25, 2018, 12:30 p.m -
Repairs are underway on roads where ever possible; however new areas of concern are being found/reported. The number of roads closed and barricaded has remained unchanged at this point, although the location of closed roads has changed. Locations cannot be provided at this point, but a list will be compiled for an end-of-day update.
The east and northeast part of the county remains a problem area at this time. Those residents who have been surrounded by water are being assisted to leave their property when necessary (for appointments, etc.).
Please continue reporting water over roads and washouts when they are found. If you have concerns for your or your livestock's safety, please call immediately and we will assist as necessary.

Update April 25, 2018, 9:00 a.m.
- Flooding continues in Lamont County, with the worst areas currently being the east and northeast sections of the county.
There are currently 44 road closures, and it is expected that many of those closures will be opened by the end of the day, today.
Residents are asked to still use their discretion to travel, drive slowly and be aware of road conditions. Please continue to report over-road flooding and washouts/sink holes to the Public Works office at 780-895-2547.
Thank you to everyone for their reports, and for helping us maintain public safety during this time. Another update will be made around 12 noon.

Update April 24,2018, 5:30 p.m.
- Flooding in Lamont County south of highway 29 is beginning to recede in some areas. In the northeast, however, water continues to rise as snow and ice melts, with the most serious area being RR 161 north of Andrew.
A list of roads currently closed is attached to this notice. Please note: This list is only accurate as of 5:00pm, April 24. Roads are closed as necessity requires and opened as repairs are made. Please watch for barriers, and do not drive on closed roads. For your safety, drive with extreme caution as sinkholes are a distinct possibility and can happen without warning.
Public Works crews will be working over night to confirm road status and monitor hazardous areas for changes. If you observe hazardous road conditions (floods and/or washouts) that appear to be unmarked, please report it to 780-895-2547 ext. 261. A new update will be provided in the morning, unless the situation significantly changes.

April 24, 2018, 11:30 a.m. -
There are currently approximately 200+ areas flagged as areas of concern (roads flooded or washed out) that Public Works is monitoring for repairs and/or road closures. They are currently working to open roads as conditions allow, and continue to monitor water levels.
As the situation continues to be variable, we are still advising that residents travel county roads at their own discretion. Please drive slowly on gravel roads, and be aware that road conditions could deteriorate at any time.
Anyone who is concerned that they are being cut off by water in their homes, please call so emergency services can evaluate the situation, and offer help if required. Please report flooding/wash outs at our report number: 780-895-2547 ext. 261.
Another update will be made this afternoon.


April 24, 2018, 9:20 am -
Flooding continues across the county, with approximately 40 new flooded areas identified over night. The roads remain hazardous, and brittle even in places where no water is flooding over the top.
There has been reports of sinkholes opening up under vehicles.
It is advised to remain off of all county roads, unless absolutely necessary. Even if a road looks safe, it may not be!
Public Works is repairing the roads that they can, and closing off roads where necessary. Please obey all closed road signs, and drive with extreme caution, if you must be on the roads.
Another update will be provided around 11 a.m.


April 23, 2018, 3:20 pm -
At this time,
Public Works and Emergency Services staff are working to barricade roads and make repairs where ever possible. Hazard markings may vary (barricades, caution tape, or other unnatural obstruction) as hazardous areas are identified. Please do not remove barricades, or you may be liable in case of injury. Fines include $10,000 and/or up to 1 year in jail.
It is strongly advised that you do not travel on any Lamont County roads, at this time. If it is necessary to travel, do so with extreme caution, as road conditions can change unexpectedly; please do not travel at speeds over 40 kms/hr, in order to ensure your safety. Please slow down and take caution around any Emergency Services or Public Works staff as they work.
Updates will be provided as the situation changes.

April 23, 2018, 12:00 p.m. -
Lamont County has declared a State of Local Emergency in the entire area within Lamont County, due to spring flooding. The public is advised that for the duration of the emergency, Lamont County may take any action it deems necessary to deal with the situation. Please watch social media or the website at www.lamontcounty.ca for updates.
April 23, 2018, 10:30 am -
Due to significant overland flooding across the county, residents are advised that any road could be at risk for flooding or washout. Please slow down and be vigilant spotting road conditions. DO NOT drive through flooded roads, due to risk of hidden hazards. DO NOT drive around road closed barriers. If you see water running over the road please report it immediately to our dedicated report line at 780-895-2547 ext. 261.
As the situation is continuously changing as snow melts, please watch Lamont County Social media and/or the Lamont County website for updates, and any further instructions.