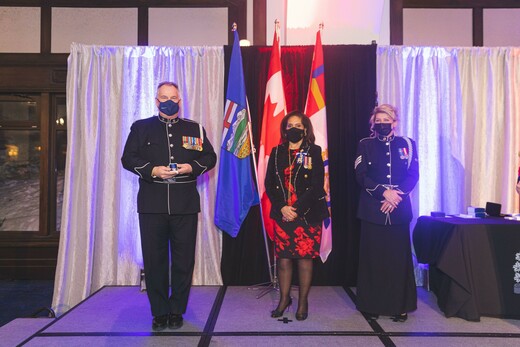 FOR IMMEDIATE RELEASE – Lamont County Peace Officer Recognized for Years of Service
March 11, 2022 – LAMONT, AB: Earlier this month (in February) Lamont County Community Peace Officer (CPO), Derek Wright was presented an award from Alberta's Lieutenant Governor, Salma Lakhani, on behalf of the Queen.
The Alberta Emergency Services Medal was awarded to him for 12 years of frontline service to Albertans in a first responder role.
"This is excellent recognition complementing Derek's work as CPO and the service he brings to our province and community," said Peter Tarnawsky, Lamont County's Chief Administrative Officer. "We are proud of his accomplishment and recognize the significance of a medal presented by the Lieutenant Governor."
As a County employee for more than three years, Derek has displayed his CPO and Canadian Forces Military Police experience from various policing roles over 28+ years (including international deployments in Afghanistan, Egypt, Haiti and Bosnia). His past service has included secondments to Canadian Embassies of Syria and Afghanistan—and allows him to bring this experience to day-to-day operations as Lamont County's CPO.
"Meeting the Lieutenant Governor was a high point of the conference," said Wright. "I am honoured to receive this medal from the Lieutenant Governor of Alberta and to represent Lamont County. I look forward to continuing first responder service in our County."
Congratulations to Derek! 
-30-
[Photos Attached – enclosure]

Media inquiries can be directed to:
Jay Zaal
Communications Coordinator
780-895-2233 Ext. 222
jay.z@lamontcounty.ca
www.lamontcounty.ca/news
PDF Version: