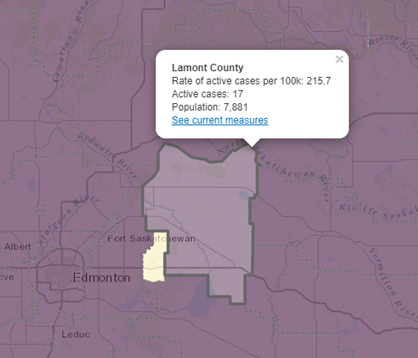 As of today, December 7, Lamont County has 17 active COVID-19 cases, and the county has been placed in "Enhanced" status.
The Government of Alberta has announced
new mandatory restrictions
in place for Enhanced areas.
Lamont County urges all residents to continue to do their part to stop the spread of COVID-19 in our communities.


Please note that the new measures for Enhanced Status communities will remain in place until at least December 15, regardless of if daily active cases decrease.
Please monitor your symptoms; if you have any symptom, especially cough, fever, difficulty breathing, or loss of taste and/or smell, stay home and
take the online assessment
to arrange testing.
Albertans are
legally required
to isolate for 10 days if they have any core symptoms not related to a pre-existing illness or health condition, and to quarantine for 14 days if they are a close contact of someone with COVID-19 or if they travelled outside Canada.