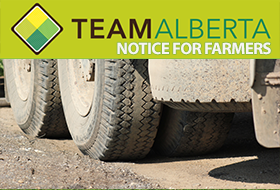 Team Alberta would like to ensure that farmers are aware of the approaching deadline of March 1, 2021, to complete the necessary testing for the Class 1 Mandatory Entry Level Training (MELT) equivalency under the Alberta Transportation farmer and farm worker extension program.
Those who need to complete their road MELT test before March 1, 2021, contact Alberta Transportation to book your road test date.

If you are a farmer or farm worker who has successfully applied to the extension program and are experiencing issues with training and testing, here are some steps you can take:
1. Contact Alberta Transportation:
Email: driverexaminations@gov.ab.ca
Phone: 780-427-8230 (toll-free dial 310-0000 first)
2.
Contact your MLA
to be sure your concerns are being heard broadly.
3. Reach out to the crop commissions for further information:
Shannon Sereda - sereda@albertawheatbarley.com
Karla Bergstrom - karla@albertacanola.com
Nevin Rosaasen- nrosaasen@albertpulse.com
Alberta Transportation has announced two new programs that are aimed at lowering the barriers to achieve a MELT Class 1 licence and grow the pipeline of Class 1 drivers in the province:
•
The Experience & Equivilancy program
•
The Driving Back to Work Grant program
Read the full notice
(.pdf) on the Team Alberta website for more information.