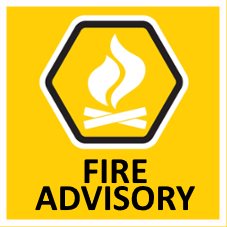 Due to extremely dry weather conditions, Lamont County is issuing a Fire Advisory for all rural areas of Lamont County, including Hamlets EFFECTIVE April 7th, 2021.
A fire advisory is a warning that fire conditions are poor and deteriorating. Lamont County urges residents to only burn if absolutely necessary. There are no formal restrictions in place with a fire advisory. If conditions do not improve this advisory may be upgraded to a Fire Restriction or a Fire Ban with little notice.
Wildfires can start easily from most causes especially unattended campfires, cooking fires, and improper open-air burning practices with fire permits. Wildfires may become serious and difficult to control if not successfully contained while small.
Existing fire permits are still valid (no permit extensions will be issued)
New fire permits will be issued for small (4X4) yard debris piles only
Allowed:
Safe wood campfires in approved fire pits
Portable propane fire pits
Gas or propane stoves and barbecues
Charcoal and pellet barbeques
Catalytic or infrared-style heater
Approved and certified incinerators (for agricultural use)
For more information please visit
albertafirebans.ca
for fire up-to-date fire status or contact the Lamont County Administration Office @ 780-895-2233 ext. 236 during regular business hours.
If you see a fire of any type, report it immediately by calling 911. Please check continue to watch the Lamont County website for updates.