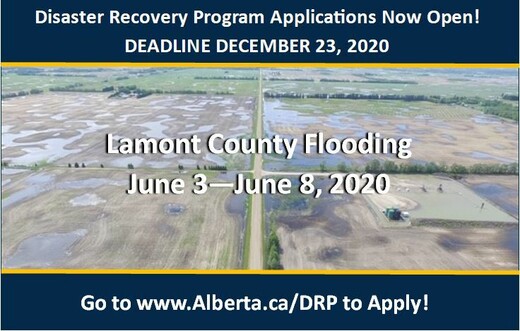 Apply for disaster recovery funding if your home or business suffered uninsurable flooding damage from June 3 to June 8, 2020.
Deadline to Apply is December 23, 2020
If you live in Lamont County, and your home, business or property was damaged by flooding that occurred from June 3 to June 8, 2020, you may be eligible to receive Disaster Recovery Program funding from the Government of Alberta.
The Disaster Recovery Program provides funding for uninsurable property damage, loss and other expenses incurred as the result of a natural disaster. Please note, hail, sewer backup and insurance deductibles do not qualify under the program as insurance coverage is considered readily and reasonably available.
Go to
www.alberta.ca/DRP
to download and submit your application form, and to find the must up-to-date program guidelines.
FOR MORE INFORMATION
Call 1-888-671-1111 or email drp.info@gov.ab.ca