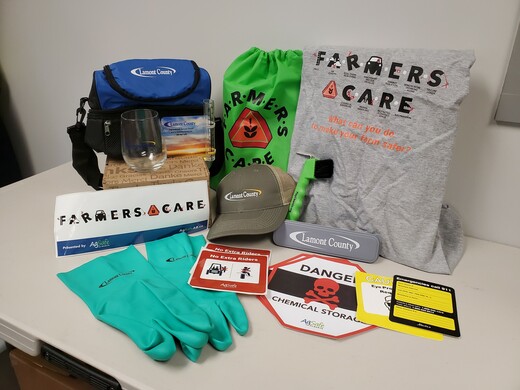 Harvest Season Safety: Win a prize courtesy of Lamont County and AgSafe Alberta.
Sign up for the Agricultural Service Board Event newsletter* using the form below for your chance to win!
Prize includes: 

an XLarge t-shirt from AgSafe Alberta, a backpack bag from AgSafe Alberta, Farm Safety stickers from AgSafe Alberta, a Lamont County lunch kit, a Lamont County rain gauge, a Lamont County ball cap, a pair of Size 11 chemical-resistant gloves from Lamont County, a reusable cutlery set from Lamont County, four wine glasses from Lamont County and a boot scrubber from Lamont County.
*By entering contest, you consent to sign up for the Agriculture Event newsletter and to be contacted by Lamont County related to this (sent email for upcoming agriculture events).
Watch for larger (& slow-moving) vehicles/equipment and wildlife crossing during dusk on roadways during your travels. Some vehicles are wider than normal and need more space on the road.